Did you see us on TV? Click Here
Fine food and atmospheric bars in the heart of the Yorkshire Dales.
Our restaurant offers an outstanding menu of the highest-quality, locally-sourced produce, cooked to perfection by our in-house chefs. With a welcoming, roaring fire, the restaurant is cosy and intimate, the perfect place to enjoy the sensational and wide ranging selection of fine food.
We have two bars which both have a warm and friendly atmosphere and are well stocked with locally brewed beers. Outside, the lovely beer garden allows our guests to enjoy the Dales air.
Constable Burton chef named 2020 Good Pub Guide licensee of the year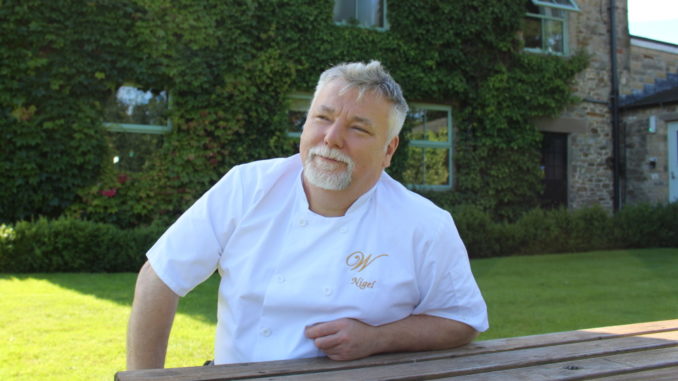 A North Yorkshire landlord and chef who started learning the industry as a child has been named licensee of the year in the 2020 Good Pub Guide.
Nigel Stevens, of the Wyvill Arms, in Constable Burton, near Leyburn, grew up in pubs run by late father Roger and mother Terry across the North-East and North Yorkshire, including several in Wensleydale.
The Wyvill is a family affair with Terry, sister Vicky and youngest daughter Simone working with him at the pub, hotel and restaurant on the edge of the Yorkshire Dales which bought 20 years ago and has been improving and expanding ever since.
Eldest daughter Nicole is also working in the industry and last year became the youngest licensee holder in the Isle of Mann where she ran The Bay pub and restaurant in Port Erin.
Nigel says the secret to a good pub is listening to the expectations of your customers and then trying to exceed them.
He added: "Running a pub and restaurant, especially on a rural area, is a real challenge these days due to a number of factors.
"Sky high rates, competition from supermarkets, availability of staff and the ever-increasing high expectations of customers, which are raised further by the numerous cookery programmes on TV, put a strain on all those in the industry.
"But if you work hard, value your staff and keep your eye on the ever-changing trends, you're half way there.
"At the Wyvill we always try to employ local people and use local suppliers. A landlord is only as good as his staff and suppliers and we are very lucky to have a great team.
Nigel name-checked butchers Hammonds of Bainbridge, fish, fruit and veg suppliers Carrick's of Bedale and Leyburn-based White Bedding Company as some of his trusted local suppliers.
"I'm really happy the award has come north because there are a lot of great landlords and landladies in the region who don't get the appreciation they deserve," Nigel added.
The Wyvill Arms is a regular in the Good Pub, Good Food and Michelin guide books.